Meloku the Clouded Mirror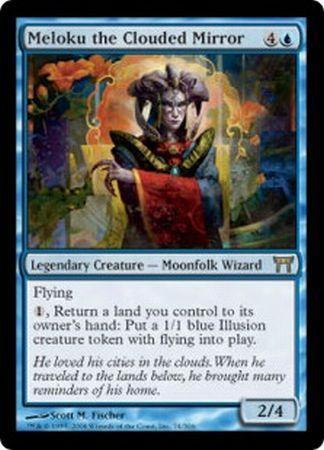 | | |
| --- | --- |
| Rarity | Rare |
| Color | Blue |
| Casting Cost | |
| Card Type | Legendary Creature - Moonfolk Wizard |
| Card Text | Flying, Return a land you control to its owner's hand: Create a 1/1 blue Illusion creature token with flying. |
| Creature Type | Moonfolk,Wizard |
| Set | Champions of Kamigawa |
| Artist | Scott M. Fischer |
| Flavor Text | He loved his cities in the clouds. When he traveled to the lands below, he brought many reminders of his home. |
| Description | Champions of Kamigawa Single Card |
| Release Date | 2004-10-01 |
| Dimensions | 3.5" H x 2.5" W x 0.012" D |
| Ship Weight | 0.004 pounds |
-
September 10, 2006
-- aaron
meloku plus herald of leshrac steals your opponents lands and makes them into tokens they now have 0 lands and you have lots of tokens
-
September 03, 2006
-- Kristen P.
Meloku OWNS the mid to late game. What a great card.
-
June 09, 2005
-- Anonymous
Combined with the tendo ice bridge you have an undiscoverd paradise wich generates illusion tokens. Cool !
-
March 09, 2005
-- Anonymous
wins games, trades lands for creatures
-
November 19, 2006
-- luca fregusy
this plus asusa,lost but seeking gives yos two craetures a turn for free. the four toughness save from all but the biggest spells too.