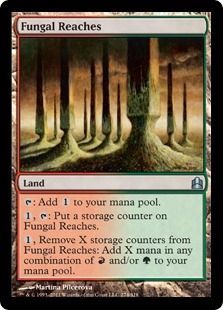 | | |
| --- | --- |
| Rarity | Uncommon |
| Card Text | : Add.,: Put a storage counter on Fungal Reaches., Remove X storage counters from Fungal Reaches: Add X mana in any combination of and/or. |
| Set | Magic: The Gathering-Commander |
| Artist | Martina Pilcerova |
| Description | Commander Deck Single Card |
| Release Date | 2011-06-17 |
| Dimensions | 3.5" H x 2.5" W x 0.012" D |
| Ship Weight | 0.004 pounds |
I was between 3 and 4 stars on this one, but oh well. Anyway, this card is definitely good. It can help you power out some hard to cast creatures and it gives you two colors to work with. However, this card is definitely not close to being amazing. 4 of them can probably get you around 8 mana on turn 5, but the problem is you will have spent most of your mana up to that point charging your lands. By that time, if you are playing against a decent deck the game will be out of reach for you. It also is a horrible first turn play if you were hoping to play a one-mana card that turn instead. It also forces you to charge it on the second turn if you plan on really putting it to use, so the first time you even get to play something (assuming you didn't get a 1-mana artifact to play the first turn) is the 3rd turn, which is...not so great.