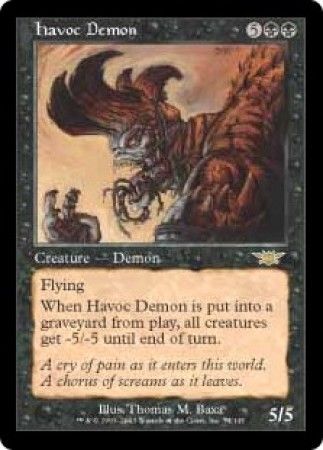 | | |
| --- | --- |
| Rarity | Rare |
| Color | Black |
| Casting Cost | |
| Card Type | Creature - Demon |
| Card Text | Flying When Havoc Demon dies, all creatures get -5/-5 until end of turn. |
| Creature Type | Demon |
| Set | Legions |
| Artist | Thomas M. Baxa |
| Flavor Text | A cry of pain as it enters this world. A chorus of screams as it leaves. |
| Description | Legions Single Card |
| Release Date | 2003-02-03 |
| Dimensions | 3.5" H x 2.5" W x 0.012" D |
| Ship Weight | 0.004 pounds |
-
April 28, 2004
-- David
This is a good card! Especially because its black! Black has all the good graveyard recursion stuff in it so if it kills your stuff you can just bring it back. The only way they will bring back they're stuff is by playing black also. There is some graveyard recursion in other colors but its not as heavy as it is in black. If paired with the right stuff this is an awesome card!!
-
November 05, 2003
-- Anonymous
Awesome card! Great card for and elves deck.
-
April 11, 2003
-- Kelvin
It's a good card against a Goblin deck.
Yeah so he's incredibly expensive, but consider this:1: Black's godly at mana acceleration. Dark Ritual, Cabal Ritual, Cabal Coffers...this guy can hit play surprisingly fast.2: He sets up an immediate scenario of "Damned if you do, damned if you don't". Your opponent's either forced to deal with a 5/5 flier or the annoying loss of every single creature they own.
-
March 01, 2003
-- Chris Thomas
Havoc Demon is an ok card. 7 mana is high for a 5/5 flyer, but if it goes to the graveyard it almost acts as a black Wrath of God. Overall the card is ok.