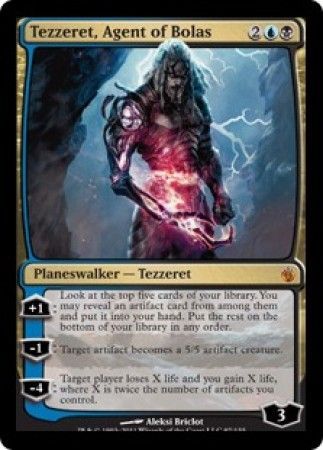 Fulfilled By:
TrollAndToad.Com
Sell to Us $3.98
*
* The 'Sell to Us' price may reflect an added website credit bonus. Other buy list payment methods will not include this.
| | |
| --- | --- |
| Rarity | Mythic |
| Color | Black, Blue |
| Casting Cost | |
| Card Type | Planeswalker |
| Card Text | [+1]: Look at the top five cards of your library. You may reveal an artifact card from among them and put it into your hand. Put the rest on the bottom of your library in any order. [−1]: Target artifact becomes an artifact creature with base power and toughness 5/5. [−4]: Target player loses X life and you gain X life, where X is twice the number of artifacts you control. |
| Creature Type | Tezzeret |
| Set | Mirrodin Besieged |
| Artist | Aleksi Briclot |
| Description | Mirrodin Besieged Single Card |
| Release Date | 2011-02-04 |
| Dimensions | 3.5" H x 2.5" W x 0.012" D |
| Ship Weight | 0.004 pounds |
-
June 28, 2011
-- George
I really like this card. Hes not at all broken and requires a deck structured around him but hes still very effective. 5 stars. He definintely makes the top five planeswalkers list.
-
April 14, 2011
-- Christine Evanson
This card is perfect for a artifact deck, it's last ability has won me more games then I can count and it's card draw aiblity is awsome for speed.
-
March 24, 2011
-- Uriah
Very solid Planeswalker. Makes infect harder to deal with providing almost no penalty for playing with it. Ability to choose an artifact draw on top of being able to make an artifact into a 5/5, any artifact, whther Indestructable, or Infect. Final ability isn't that epic, but only costs 4, so you can't complain too much. Great card for artifact decks, but I think we will see it shine when Jace rotates out (please come soon...).
-
March 22, 2011
-- William Mckinley
I use him in a Forgemaster Tezzeret deck. His first ability is no doubt the most important in the deck to search up the Kuldotha Forgemaster, second ability is mostly used on Inkmoth Nexus to give 5 poison counters, and his last ability if used is usually a game winner with the vast amounts of cheap artifacts in the deck.
-
February 21, 2011
-- Jaxx
Solid planeswalker. In a deck built around him, he truly shines. Will likely see play in Legacy, Standard, and possibly Extended. Definitely a card to watch.
-
February 14, 2011
-- Anonymous
I put 2 into my Myr token control deck and it is amazing. I just wish I could find someone who wold still play it. Beautiful artwork and so many possibilities, I wish I had more.
-
February 14, 2011
-- Edward Trang
Just love this card with a bunch of low costing artifacts like Memnites etc. So happy when I pulled him, no question one of the best or the best card of set.
-
January 19, 2011
-- andy bungert
wow, this new Tezz is looking pretty good. not as overpowered as Jace but better than the original (which i still like). i'm thinking about putting him in with a bunch of 0 cost artifacts diabolic tutors and a variety of counterspells. if i can make him stick for two turns, use his final and you're gone!love it. 5 stars!
-
February 03, 2011
-- mike
ok add mirrorworks, mass polymorph, knowledge pool... to tezzie.. and see what fun your gonna have.... just make sure your artifacts are low cost casting....(can we say etched champion? and mox opal?)and dont forget singal pest... that can get nasty..... and the living weapon equipment have a second ability... after the germ goes "bye bye" then just make that artifact a 5/5 beast.... not too bad...) (the reason for that is the equip cost on some of them is kinda high, so use what you have to the best of your ability.... be careful of liquid metal coating and revoke existance and demystify... and pro artifact critters... another good card with tezzie... myr sire.... you can use mortipod and kill the sire... then make the token into a 5/5 not too bad colorless damage with the pod!!!!! better play countermagic and keep him around for a few turns and you will be fine..
-
January 20, 2011
-- Anonymous
This cared is going to be amazing. Like I know right now in standard there's no artifact decks but once besieged comes out and then "action" artifacts are going to be in standard and this guy is going to be good. Btw his second ability doesn't say until end of turn so that artifact stays a 5/5
Fulfilled By:
TrollAndToad.Com
Sell to Us $3.98
*
* The 'Sell to Us' price may reflect an added website credit bonus. Other buy list payment methods will not include this.