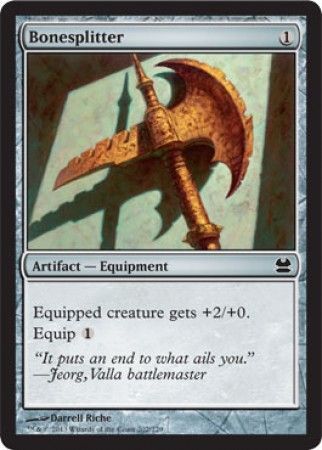 | | |
| --- | --- |
| Rarity | Common |
| Casting Cost | |
| Card Text | Equipped creature gets +2/+0. Equip |
| Creature Type | Equipment |
| Set | Modern Masters |
| Artist | Darrell Riche |
| Flavor Text | "It puts an end to what ails you." —Jeorg, Valla battlemaster |
| Description | Modern Masters Single Card |
| Release Date | 2013-06-07 |
| Dimensions | 3.5" H x 2.5" W x 0.012" D |
| Ship Weight | 0.004 pounds |
-
March 11, 2011
-- dirty johnny
kor duelist 1st turn + bonesplitter 2nd turn = swing for 3 double strike (6)
-
June 01, 2006
-- dknecrofear
My favorite cheap equipment card in magic in some ways it it too cheap to get and
easy to use effectively.
Plus 2 power for 1 to play and 1 to equip, gold. I hve 4 in my deck and they have yet to fail me.
-
December 15, 2003
-- Xanosaucy
Is this Paul Bunyun's Axe? It very well could be, giving you such power in the second turn.
-
December 14, 2004
-- Anonymous
Not very good in control deck, but this thing is as fast as a tomahawk