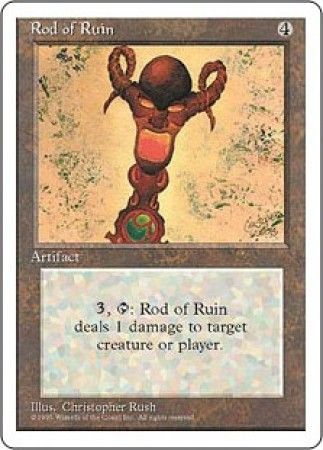 | | |
| --- | --- |
| Rarity | Uncommon |
| Color | Artifiact |
| Casting Cost | |
| Card Type | Artifact |
| Card Text | ,: Rod of Ruin deals 1 damage to any target. |
| Set | Fourth Edition |
| Artist | Christopher Rush |
| Flavor Text | |
| Description | MTG 4th Edition Single Card |
| Release Date | 1995-04-01 |
| Dimensions | 3.5" H x 2.5" W x 0.012" D |
| Ship Weight | 0.004 pounds |
-
September 29, 2002
-- summer fan
Where is Royal asassin?? Isn't he with summer magic??
-
March 04, 2010
-- guthrie
i have the old one and its ok im not useing it right now tho
-
November 17, 2010
-- Elliot
One of the most mana inefficient cards. I don't know anyone that would use it outside of draft or sealed, and even then it would be something you'd likely choose to leave out.