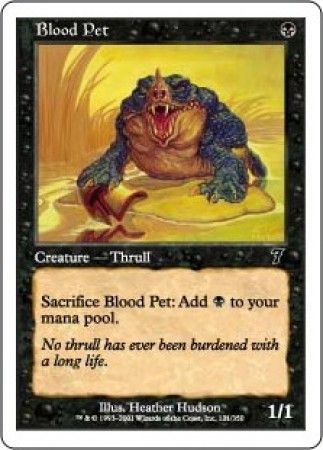 | | |
| --- | --- |
| Rarity | Common |
| Color | Black |
| Casting Cost | |
| Card Type | Creature - Thrull |
| Card Text | Sacrifice Blood Pet: Add. |
| Creature Type | Thrull |
| Set | Seventh Edition |
| Artist | Heather Hudson |
| Flavor Text | No thrull has ever been burdened with a long life. |
| Description | MTG 7th Edition Single Card |
| Release Date | 2001-04-11 |
| Dimensions | 3.5" H x 2.5" W x 0.012" D |
| Ship Weight | 0.004 pounds |
-
August 12, 2002
-- bloodpet!!!!
i deeply recommend u get this card even if you don't have a black deck y? cause it looks real nice in a black card protector. i really hate the new look though
-
August 11, 2002
-- daniel h lee
turn 2 kiLl? what u b talkin bout foo? turn 1 kill, then put down anoyher blood pert
-
January 20, 2002
-- Anonymous
-
March 23, 2010
-- Jens N
A nice mana investment, Blood Pet is a decent addition to many old-school black decks. You get a blocker which can then be sacrificed later to amp your mana in order to cast big spells earlier.Also, the art is so cute that you should consider getting one, even though you're not going to be playing with it.
-
July 21, 2006
-- Orphilia
its ok, i myself like to use it with thoughtpicker witch, but adding mana works too... black ritual would work better i think.
-
August 11, 2002
-- daniel h lee
the new pic is not cute. turn 1 kill then put down another blood pet great card!