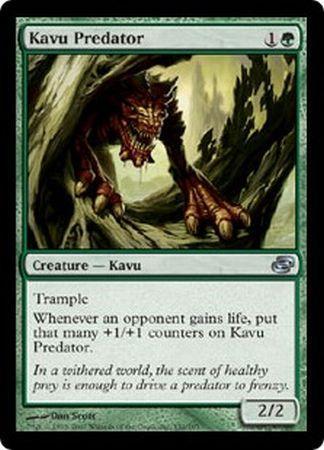 | | |
| --- | --- |
| Rarity | Uncommon |
| Color | Green |
| Casting Cost | |
| Card Type | Creature - Kavu |
| Card Text | Trample Whenever an opponent gains life, put that many +1/+1 counters on Kavu Predator. |
| Creature Type | Kavu |
| Set | Planar Chaos |
| Artist | Dan Scott |
| Flavor Text | In a withered world, the scent of healthy prey is enough to drive a predator to frenzy. |
| Description | Planar Chaos Single Card |
| Release Date | 2007-02-02 |
| Dimensions | 3.5" H x 2.5" W x 0.012" D |
| Ship Weight | 0.004 pounds |
-
March 16, 2018
-- Caleb
Verified Buyer
This card is just amazing. I can't believe it's so cheap.
-
October 30, 2010
-- Jay
1 of my all-time favorite cards. I play this at any point and I become Public Enemy #1, even over people who currently have Darksteel Colossus or Memnarch in play. Should almost have in it's flavor text "Opponents must target *this* least they wish to lose."
-
February 28, 2010
-- Anonymous
Broken. No, really. There are cute ways to utilize it in single player, but it is one of the most dangerous multi player cards ever printed. Reverent Silence gives you a lethal creature on turn 2. Grove of the Burnwillows can get him into the twenties easily. Reward the Faithful is also able to generate a massive Kavu easily and at instant speed. Of course, the ability itself is silly, but it is also a splashable casting cost, cheap, and has BUILT IN TRAMPLE. There is no reason for a multiplayer deck with forests to not to have 4 Kavu Predators and 2 Reverent Silences just for the "Oops, I win" factor.
...well...I forgot about Fiery Justice and Last Breath on your side of the table, and since most decks that run green are running kitchen finks, this can grow to be a 6/6 SWINGING on turn 3 (turn 2 you play it, then your opponent plays a finks; turn 3 shock their finks and...ouch). ...Or a 7/7 (Fiery Justice on turn 3, killing your opponent's biggest creature and bringing them to 25, but they'll be back down again in a couple of turns...)
-
August 09, 2008
-- C. Reitmeier
2/2 trample for 1G, great in a beatdown deck. Combine with Invigorate and Swords to Plowshares for even more fun. Hesitating to remove a 9/9 Sliver Legion from the game, because your opponent would get so much life? Not anymore! Excellent, cost effective card.
-
April 03, 2008
-- Geckle
People get all excited about Tarmogoyf, because you can get it up to a 6/7 or so that only costs two. I was playing a game where an opponent put spirit link on it. It did not do any damage, it just doubled every turn. Eventually, I got rid of the link with moulder, and attacked with a 790/790 with trample.
-
November 10, 2007
-- Jose Aguilar
This is a very cheap 2/2 creature to use in any beatdown type of deck. Just combine it with Grove of the Burnwillows, Primal Command, or some other spells that gives your opponent life, and these guy's strength will grow like crazy. The trample also makes this creature a force to be reckoned with.
-
April 19, 2007
-- lordofsecrets
I think this is a great tech card against orzhov or any other deck that gains life and I did a very mean thing in a sealed event I went to recently (I had out Kavu Predator and the opponent that had Heroes remembered played it forgetting about the kavu's ability when he had only two life, yet luckily I finished him because his next card was damnation).
-
May 11, 2008
-- Greg Johnston
This card is great, but not as super-awesome as some people make it out to be. Ok, it's a 2/2 with trample that punishes opponents for gaining life. And it only costs 1G. That would be amazing, if not for the fact that most opponents in Standard aren't gaining that much life. I bet this card was great against Orzhov, but no one uses Orzhov any more cuz it's not Type II...!!! So in your standard meta, it's going to be a 2/2 with trample...not exactly very exciting...if you are gonna use this card (I'm not) use it with Grove of the Burnwillows...4 of them...now THAT'S amazing, especially if you can spend a lot of mana on Firebreahting or something, if you get this out on Turn 2, you can have a 10/10 with trample within 5 turns.