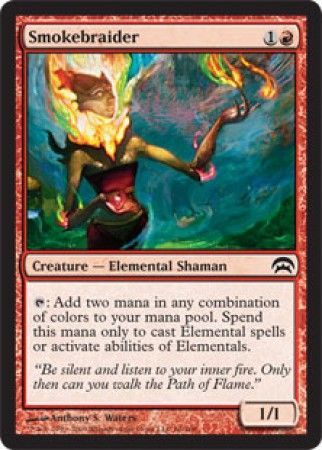 | | |
| --- | --- |
| Rarity | Common |
| Color | Red |
| Casting Cost | |
| Card Type | Creature |
| Card Text | : Add two mana in any combination of colors. Spend this mana only to cast Elemental spells or activate abilities of Elementals. |
| Creature Type | Elemental,Shaman |
| Set | Planechase |
| Artist | Anthony S. Waters |
| Flavor Text | "Be silent and listen to your inner fire. Only then can you walk the Path of Flame." |
| Description | Planechase Single Card |
| Release Date | 2009-09-04 |
| Dimensions | 3.5" H x 2.5" W x 0.012" D |
| Ship Weight | 0.004 pounds |
-
May 28, 2008
-- Will B. Staples
Great for mono-red elementals and even better for a multi-color deck.
-
January 04, 2008
-- Brandon
This is a must-have for any elemental deck. Period. You can get it out early, and it's 2 of any color, which is fantastic and leaves your deck open for more specific lands, instead of duals.
-
October 24, 2007
-- Anonymous
Best Elemental mana producer ever.
-
June 02, 2008
-- Greg Johnston
Yeah, sure, this card is completely awesome, it can give you a turn-3 Horde Of Notions, except it's a 1/1...my Smokebraiders are killed so easily I have to run 4 of them, and that takes up a lot of room >.<
-
December 13, 2007
-- blaj
Correction: only mana-producing Elemental anywhere:P