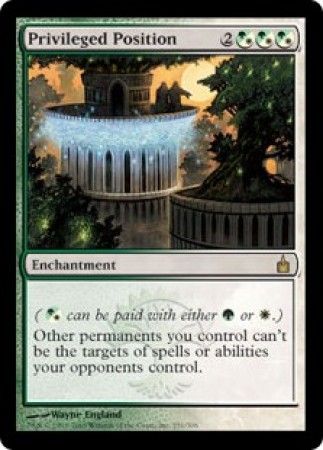 | | |
| --- | --- |
| Rarity | Rare |
| Color | Gold |
| Casting Cost | 2G/WG/WG/W |
| Card Type | Enchantment |
| Card Text | (/ can be paid with either or.) Other permanents you control have hexproof. (They can't be the targets of spells or abilities your opponents control.) |
| Set | Ravnica: City of Guilds |
| Artist | Wayne England |
| Flavor Text | |
| Description | Ravnica Single Card |
| Release Date | 2005-10-07 |
| Dimensions | 3.5" H x 2.5" W x 0.012" D |
| Ship Weight | 0.004 pounds |
-
December 11, 2009
-- Tex
Now that there is a little card called Elspeth, simply cast this, then cast her main ability, then none of your cards can be TOUCHED.
I've been using this card in my W/U/G multi deck long before Bant came around. It's one of the perfect multi-player cards, because not only protects your permanents, but causes your opponents to use their spot removal on other player's permanents. Copy Enchantment is a must, or you will rarely see double privilege. Tranquility effects will still beat double, but the amount of people that board such effects in slim.
of course you can be targeted, even after you play this card: are you a permanent? um...i guess you could answer that it two different ways, but no...you're not considered a "permanent." still really good, though... it protects against everything but board sweepers.
-
April 20, 2008
-- Will B. Staples
Every card has a weakness, so I won't bump Privileged Position down for being counterable or bounceable. Just remember that A) it can be countered; B) it doesn't grant itself protection, so it's vulnerable to enchantment destruction; and C) it's no help against cards that affect the whole board like Wrath of God. With that in mind, it's still an awesome way to protect every other permanent you control.
-
February 18, 2008
-- Red
This card is amazing. Just simply one of those, And the target, has got to be that. End of discussion. :). So no worry about your creatures being targeted arts, and ect..Go's very good with Sterling Grove. :)
-
December 05, 2006
-- Paradox
hey peoples, me again...what can i say about the awsomeness that is Privileged Position. it rocks...if you can get out 2 of these and ivory mask out...NOTHING on your side of the board (including yourself) can be targeted by opponents...take that burn...remove that creature removal...OH WAIT YOU CANT. unless they pull out wrath of god...cause that card is the solution to EVERYTHING
-
November 25, 2005
-- nathaniel roper
This card is a sure shot, if used in conjuction with a copy enchanment or another priviledged position it pretty hard to be stopped.
-
April 18, 2007
-- Anthony
Expensive, HUGE target for countering. Good if you can play it. To the guy above, you can't be targeted, but you can still be hit with Sulfurous Cloud, Pyrohemia, Stuffy Doll, etc. This isnt the end of the world for a good burn player. Good for green decks, but white has better solutions.