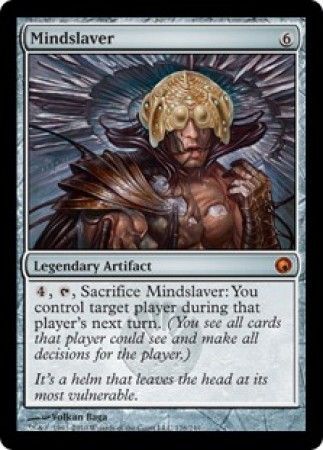 | | |
| --- | --- |
| Rarity | Mythic |
| Casting Cost | |
| Card Type | Legendary Artifact |
| Card Text | ,, Sacrifice Mindslaver: You control target player during that player's next turn. (You see all cards that player could see and make all decisions for the player.) |
| Set | Scars of Mirrodin |
| Artist | Volkan Baǵa |
| Flavor Text | It's a helm that leaves the head at its most vulnerable. |
| Description | Scars of Mirrodin Single Card |
| Release Date | 2010-10-01 |
| Dimensions | 3.5" H x 2.5" W x 0.012" D |
| Ship Weight | 0.004 pounds |
-
October 05, 2015
-- Austin
Imprint this on Prototype Portal and let your opponent''s frustration begin.Grand Architect comes to mind for the mana generation to start/continue the turn stealing.Also, pretty rad artwork.
-
February 27, 2011
-- William Mckinley
Extremely powerful in that you can tap all of your opponents lands so they can do nothing on your turn and finish them off, or if the deck is a rdw or Valakut have them burn themselves to death. If nothing else it's an extra turn in a 1v1 match.
-
January 22, 2011
-- Jay
Goblin Welder... Nuff said'
-
November 22, 2010
-- Tristan
Prototype Portal + imprinted Mindslaver + 10 mana = you control rest of game (this combo is legal in standard :P)
-
December 04, 2009
-- Andrew
I didn't think this card was very good until when i played my brother in law. His suspend/storm EDH against my artifact EDH. Both games just before a 10+ card storm, i pull mindslaver and sacrifice it. Next turn, i get to decide where all his storm cards go, so i kill his creatures and destroy all his lands with the last storm. He quits before the game even ends both times. I love this card.
-
April 09, 2007
-- Grayson Maxwell
Put this card in a control deck, it can be a win condition, or a 10 mana time walk, which shouldn't be a problem with mana accel, or cloudposts especially.Using someone's deck against them is a lot of fun.Only problem is, it really annoys anyone that you're playing against
-
March 08, 2007
-- How do you rate this product?
This is what the fools get for using anything with a sacrifice ability. Kill everything they have! Discard abilities! Top it off with no more hand! MUHAHAHAHAHAHAHAHAHAHAHAAHAHAHAHAHAHAHAHAHAHAHAHAHAHAHAHAHAHAHAHAHHAHAHAHAHAH!!!!!!!!!!!!!!!!!!!!!!!!!!!!!!!!!!!!!!
-
June 15, 2005
-- Anonymous
I have a good combo with this card. Get skeleton shard, myr retriever, skullclamp, and mindslaver out. Use mindslaver's ability to control your opponent's turn. Equip skullclamp to myr retriever. Myr retriever is put into your graveyard so you get to draw two cards and myr retriever's ability lets you bring back an artifact(mindslaver) to your hand. Then bring back myr retriever with skeleton shard to your hand, and if you keep playing this combo you will almost get to control your opponent's turn for the whole game.
-
December 19, 2004
-- jake
this card is really interesting when combined with The Bringer of the White Dawn (at beginning of upkeep you may return target artifact from graveyard to play)
-
February 21, 2004
-- Anonymous
love this card! to bad about no mana burn though.
-
January 30, 2004
-- Adam sutter
This is the coolest card ever my freinds hate when i play thiis card its awsome
-
October 23, 2003
-- Max Payne
Amazing card u should get it
-
November 25, 2010
-- Leslie van Putten
I think it's odd how people come up with 3, 4 or even 5-card combos to use Mindslaver every turn of the rest of the game. Best solution: Academy Ruins. If your opponent doesn't concede, you'll control one turn for every card in target opponent's library. You'll end up conceding yourself. HAHAHAHAHA
-
November 26, 2006
-- Will Robinson
Oh god, another ridiculous mirrodin card =(In my opinion, the mirrodin set has all but ruined casual MTG gaming, most of its cards are too powerful for their own goodNice card though :p
-
June 17, 2005
-- Anonymous
Odd card I will say. Good but odd. It could be kinda crazy with it. If this card isnt banned yet then it will be soon.
-
October 11, 2003
-- Drew
This card may not always be useful, but it is extremely fun to use! The ability to make your opponent counter their own spell or fireball themselves, or make them attack with whatever creatures you like is priceless. If your a causual player, you'll love using this card.