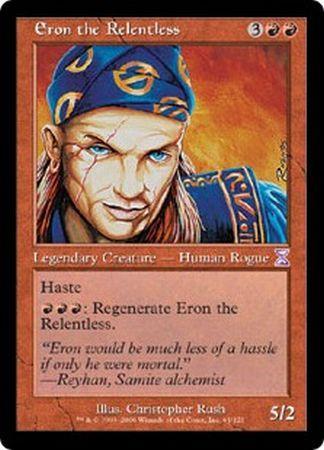 Rarity
Special
Color
Red
Casting Cost
Card Type
Legendary Creature - Human Rog
Card Text
Haste

: Regenerate Eron the Relentless.
Flavor Text
Eron would be much less of a hassle if only he were mortal." -Reyhan, Samite alchemist
Description
Time Spiral Time-Shifted Single Card
Dimensions
3.5" H x 2.5" W x 0.012" D
Ship Weight
0.004 pounds
-
September 04, 2007
-- Kyle
My friend and I have a joke about him. In a British accent say "Don't you know he's Relentless, man!!" That's why I gave him 5 stars. But anyway, I usually find myself bringing him out and he dies. But when I have the second copy out, he is the finisher (cause usually I can regenerate him). Seriously, for three red mana, you could do something much more destructive.
-
July 27, 2010
-- Smurph
In the right deck this guy is a beast. If you use him with the plethera of creature elimination cards that red has there is a good chance your opponent won't have any creatures out to block him when you bring him out with 5 mana.Even in the wrong deck he is still decent and will at the very least be someone your opponent will have to do with. I've won games with this guy countless times.Not to mention the intangibles like cool art and flavor text, plus he was the first real creature with 'Haste'(I don't count Ball Lightning as a creature since he plays more like a sorcery), and the first Mono-Red Legend(along with Joven).If his regen was 2 red instead of 3 I would give him 5 stars.
-
February 26, 2008
-- Will
By the time you have the 5 mana to cast him, your opponent will have something that can kill a creature with 2 toughness. Why does he have haste when he's just going to die as soon as you play him? If you attack with him the same turn you play him, if it's early in the game you won't have the mana to regenerate him and he dies, and if it's late in the game and you DO regenerate him you've just wasted 8 mana. Like SO many other cards from Homelands, you can tell they put no thought whatsoever into how this guy's abilities work together.