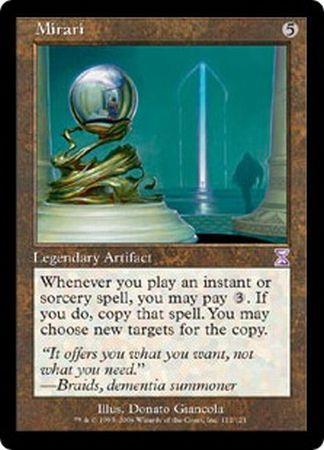 Fulfilled By:
TrollAndToad.Com
Sell to Us $0.30
*
* The 'Sell to Us' price may reflect an added website credit bonus. Other buy list payment methods will not include this.
| | |
| --- | --- |
| Rarity | Rare |
| Color | Artifiact |
| Casting Cost | |
| Card Type | Legendary Artifact |
| Card Text | Whenever you play an instant or sorcery spell, you may pay. If you do, copy that spell. You may choose new targets for the copy. |
| Flavor Text | It offers you what you want, not what you need." -Braids, dementia summoner |
| Description | Time Spiral Time-Shifted Single Card |
| Dimensions | 3.5" H x 2.5" W x 0.012" D |
| Ship Weight | 0.004 pounds |
Great card, but remember you can only copy the spell once per spell played. so you cant even copy the "seething song" more than once with your available mana! check the ruling on this card. It works like ''iron star" and similar cards
-
November 12, 2007
-- Dewayne Osterdock
This is the best way to win a game. Think about it I have built an amazing deck with this thing. Check it out I get mirari out then i throw down seething song and copy it as many times as i want this gives me an endless mana pool then i throw out a burn spell and you are dead. Simple as that.
-
January 20, 2007
-- mike fox
awsome very powerful card great in combination with beacon if immortality.
-
November 26, 2006
-- Jared Gardner
Mirari + seething song + ltngbolt or sumthin (3rd can be just about any damage spell really)... nuff said
-
November 08, 2006
-- Bob, the Demonic Chipmunk
-
November 14, 2004
-- Maxime
je trouve que c trop bon avec beacon of immortality
-
January 20, 2003
-- Anonymous
In typeII this card is abusive. Play it in mono black or a mirari's wake deck...its the key card to winning usually
-
September 22, 2002
-- Jamal
If you really want to try some crazy stuff, use Urza's mine, Urza's Tower, and Urza's Power Plant. Then use a fireball (or any burn card w/ x in the casting cost), and duplicate it. I killed two people in one move (one at 10, the other at 12) doing exactly that!!
-
June 15, 2002
-- DigitalXaos
Read the rules James (twit).
hey dude if you have one of these and you don't know what the stack is then you should be shot in the head three times then dragged to antarctica and buried in a coffin 20 feet under the ground along with 20 pounds of dead, rotting fish
This card is decent for playing with, and the card art rules. Just for the fact that I already have 4, I'm going to start collecting them :)
-
August 19, 2008
-- Anonymous
No denying this is an alright card, but many people still seem to think that you can get infinite mana with a seething song. You can't. You play the song, copy it as many times as you can with the whatever mana you have, AND THEN the spell resolves, giving you RRRRR for each time you copied it. By that time the spell has already resolved, and you can't re-play it with all your new mana.
Sorry to burst your bubble.
-
June 03, 2007
-- Anonymous
This card is like Twincast, but you can play the ability several times. So what if it costs 5 mana. "With all things great comes a disadvantage"
-
October 11, 2002
-- JakDar
Well, although it is a nice card for copying, there is a better one. Radiate. It will destroy ALL lands if you play it on a stone rain. Too bad Radiate is a one time thing, though.
It's expensive, but still useful. Probably best in either a black control deck or a counter-burn deck. If you use it with cantrips, it becomes an improved Jayemdae Tome.
-
November 14, 2002
-- Anonymous
A Type II card all the way. Not viable in any other format. Too slow, too much, and too overrated. Yes, it's effect is powerful, but how often will you be able to cast and use it in the super-fast Extended, the near extinct Type 1.5, and Mirari would get laughed off the table in Type 1. 3 stars becaause of artwork and effect. Minus 2 stars because of lack of versitility in formats and stupid casting cost(s).
-
June 13, 2002
-- tom cadden
this card was destined to be amazin then they slapped a 5 casting cost on it with a 2 cost to activate. by the time u have 5 mana out against me ur dead or gettin countered out the game. to bad that happened with the cost.
Fulfilled By:
TrollAndToad.Com
Sell to Us $0.30
*
* The 'Sell to Us' price may reflect an added website credit bonus. Other buy list payment methods will not include this.