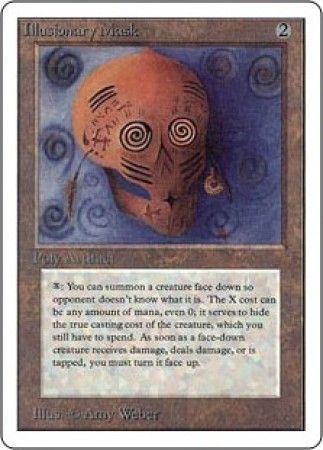 | | |
| --- | --- |
| Rarity | Rare |
| Color | Artifact |
| Casting Cost | |
| Card Type | Poly Artifact |
| Card Text | : You may choose a creature card in your hand whose mana cost could be paid by some amount of, or all of, the mana you spent on. If you do, you may cast that card face down as a 2/2 creature spell without paying its mana cost. If the creature that spell becomes as it resolves has not been turned face up and would assign or deal damage, be dealt damage, or become tapped, instead it's turned face up and assigns or deals damage, is dealt damage, or becomes tapped. Activate this ability only any time you could cast a sorcery. |
| Set | Unlimited Edition |
| Artist | Amy Weber |
| Flavor Text | |
| Description | Unlimited Single Card |
| Release Date | 1993-12-01 |
| Dimensions | 3.5" H x 2.5" W x 0.012" D |
| Ship Weight | 0.004 pounds |
-
January 12, 2003
-- Anonymous
hmmm this and phyrexian dreadnought..........
-
June 30, 2002
-- Jasper Oomen
definately a 5 stars produkt, this card is the one holding type 1 together. how good is it to play a 12/12 trample creature or only 1 mana, with no other effects?heh.. read the errata..
-
November 01, 2010
-- Jens N
This card is just awesome. Cast instant 2/2 creatures that flip whenever anything happens to them and let your opponents wonder at what your army might consist of, surely causing them to make bad decisions. If nothing else, this just seems like so much fun!I'd definitely buy one or two if it wasn't for the price tag.
-
December 24, 2001
-- Joey
This is such a nice card! Not only can you summon creatures as instants, but you can confuse your opponent to the point were they want to cry or eat your library or something. A great way to make your opponent waste counter and burn spells on small, inconsequential creatures.