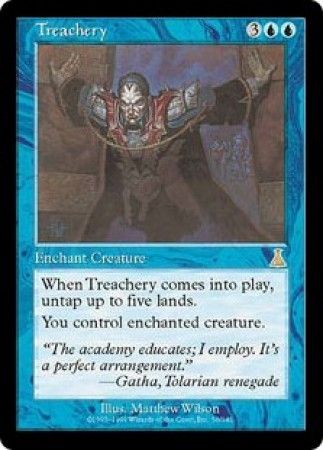 EVO Merchant:
Angry Bottle Gnome
Fulfilled By:
TrollAndToad.Com
Rarity
Rare
Color
Blue
Casting Cost
Card Type
Enchant Creature
Card Text
When Treachery comes into play, untap up to five lands.

You control enchanted creature.

Set
Urza's Destiny
Flavor Text
The academy educates; I employ. It's a perfect arrangement." -Gatha, Tolarian renegade
Description
Urza's Destiny Single Card
Dimensions
3.5" H x 2.5" W x 0.012" D
Ship Weight
0.004 pounds
-
June 02, 2009
-- Keep me anonymous
Thanks for writing a review of Treachery.
-
April 25, 2008
-- Counterspell
This is where Control Magic lacked, I needed to wait for another 2 island before control magic to prevent controlled creature for being terrored or killed. With this, problem solved and you can play at least another 2 countermagic during opponent's turn. Too powerful!
this card is truly the king of control. It is the most disgusting card ever to hit print. It completes my deck, every person should have this card
Brilliant card even if it's just to see the expression on their faces when you nick their 6/6 unblockable Tidal Kraken. All I can say is...
-
April 25, 2002
-- john moul
I haveth myself my dream deck, and this card happens to be the kill method unless you include Rootwater Thief (cough cough). This card is extremely powerful in board control/ counter because it provides you with your damage source and, unless you are playing against a blue deck, leaves the mana open for counter magic. If you're deck has ample mana and you wanna snag their creatures during their turn, sub in Dominates for the treacheries. I have tried this and it works fairly well. There is also several things that you could sideboard for a more efficient kill (such as the dominates, or perhaps a Zephid or two if their stuff can't be targetted). Get treacheries.. right now... or you will get a spear-in-the-eye! .. anybody needs the deck list or counterspell advice.. IM me on aol instant messenger, my sn is GodlikeOrDoglike
-
January 28, 2002
-- frank
-
October 30, 2004
-- Nick
Creature control AND uptap lands, its fantastic! Ihave a whole deck based around this and countermagic and bribery etc and it borders on invincible! Fun and very game-swinging card!
EVO Merchant:
Angry Bottle Gnome
Fulfilled By:
TrollAndToad.Com