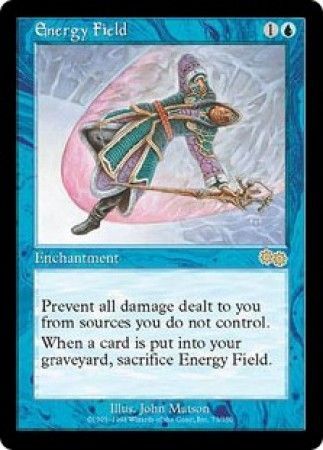 Condition:
Moderately Played
EVO Merchant:
Mercadiacity
Fulfilled By:
TrollAndToad.Com
| | |
| --- | --- |
| Rarity | Rare |
| Color | Blue |
| Casting Cost | |
| Card Type | Enchantment |
| Card Text | Prevent all damage that would be dealt to you by sources you don't control. When a card is put into your graveyard from anywhere, sacrifice Energy Field. |
| Set | Urza's Saga |
| Artist | John Matson |
| Flavor Text | |
| Description | Urza's Saga Single Card |
| Release Date | 1998-10-12 |
| Dimensions | 0" H x 0" W x 0" D |
| Ship Weight | 0.004 pounds |
-
October 19, 2009
-- Adam R. Wood
Buyback. 'Nuff said. - ZM
-
September 10, 2008
-- samurai
this card is an overlooked card. i play a playset in 2 decks of mine, one for "fun" play and then another one for serious play. when u use a combo like top+ counterbalance, your pretty much untouchable for the most part. highly overlooked in legacy. not recommended for most blue decks however, since most rely on draw spells and more counter spells
-
December 13, 2002
-- Ixidor
You can use one of these with a Yawgmoths agenda or with a Necropotence, worse comes to worse they'll disenhanct one of the enchantments, then thats why you throw counterspells in the deck black/blue deck why not ;-) .
-
July 11, 2002
-- Thomas Marlin
Hook this up with Yawgmouth's Agenda and you cant be killed. Except if one of the enchantments is destroyed.
-
June 21, 2002
-- I will not tell you you mean guy
I rate this 5 times a billion whovever thinks this is a bad card must have a knife in their brain!!!!!!!!!!!!!!!!!!!!!!!!!!!!!!!!!!!!!!!!!!!!!!!!!!!!!!!!!!!!!!!!!!!!!!!!!!!!!!!!!!!!!!!!!!!!!!
-
October 26, 2011
-- Anonymous
This is a great card! It might suck against discard decks, but still... I like to use it in my MUC as a time delayer to construct my game, not as an eternal lock. It saved me countless times from progenitus, goblins and fish. Good as a SB card, but can be greater in your maindeck, depending on your local metagame.I just thinks it deserves 5 start because a great portion of decks can destroy 1 of your permanents or make you discard and screw your field.
-
July 21, 2011
-- Neil Gordon
With planar void or leyline of the void it is awesome, potential 2nd turn semi-lock down. Very fun.
-
August 23, 2010
-- mike
tolarian academy, lots of 0 drop artifacts and some extra draw tons of mana to do what you want to finish the game.... like maybe use a stroke of genius or prosperity on your opponent(s)(and you.) and a black vice or a storm seeker... to finish.... dont forget propaganda to protect yourself... and counter magic..i only give it 4 stars because of the casting cost... its kinda high and should be used for mono blue decks unless you can get it out quicker, like show and tell or academy rector..(white) if you get your "god hand" you should have enough mana to get this out on the first turn and have a force of will handy just in case..
-
March 02, 2005
-- Anonymous
back in the day, i remember trying to pull this card off with bounce cards like 'rushing river.' however, it proved a bit too hard to pull off consistently. more recently, i saw a semi-professional player trying to break it with 'isochron sceptor' with numerous bounce spells like 'boomerang' and gobs of search cards like 'vampiric tutor.' since i never heard from back from him i'm assuming that his deck didn't break out. either that, or he's keeping it to himself for those $500.00 private matches with type 1 ante cards. somehow i doubt it though. enjoy the art and the 'urza's saga' storyline with this depiction of a young breakthrough "urza."(post-plainswalker) in conclusion, recommend. if you want to work your brain like a trampoline that is............................
Condition:
Moderately Played
EVO Merchant:
Mercadiacity
Fulfilled By:
TrollAndToad.Com