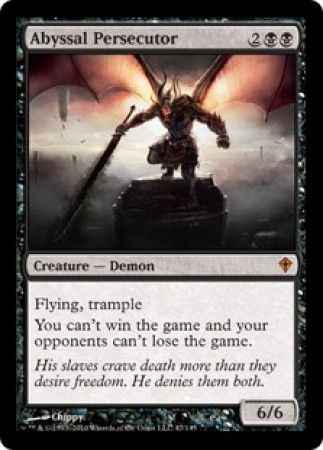 Fulfilled By:
TrollAndToad.Com
| | |
| --- | --- |
| Rarity | Mythic |
| Color | Black |
| Casting Cost | |
| Card Type | Creature - Demon |
| Card Text | Flying, trample You can't win the game and your opponents can't lose the game. |
| Creature Type | Demon |
| Set | Worldwake |
| Artist | Chippy |
| Flavor Text | His slaves crave death more than they desire freedom. He denies them both. |
| Description | Worldwake Single Card |
| Release Date | 2010-02-05 |
| Dimensions | 3.5" H x 2.5" W x 0.012" D |
| Ship Weight | 0.004 pounds |
-
September 16, 2010
-- kris krishna
love this card its in my trader deck, get him out early pound the enemy then bazaar trade him or fling him=) great card
-
September 13, 2010
-- Jim
beats the hell out of Juzam, Scuta, and negator. Another cheap and easy way to dump him when you need to is innocent blood.
incredible. turn four or earlier W/dark rit. etc., beat opponent down, then momentous fall, smallpox, fleshbag marauder, gatekeeper of malakir, etc. etc.
-
May 30, 2010
-- Anonymous
This guy is rediculous. Mono black has soooo many ways to get rid of him if your opponent does'nt do it for you right away. Smallpox, cabal therapy, gatekeeper of malakir are just a few that come to mind. freat card.
Beat them down to zero with this monster, then donate it :P
-
April 03, 2010
-- Anonymous
It fits great in a Red Black deck, with Baazar Trader, it was overvalued at the begining, now the price has gone down, i think it's fine for a card like this, it used to be more expensive.
now this is just a challenge card wich will make you very mad or very happy
-
March 20, 2010
-- Anonymous
The most broken card I've seen since Umezawa's Jitte. I run a black control deck so getting rid of this guy is easy to deal with and thanks to him I can take down more than one person at a time.
-
February 26, 2010
-- Anonymous
While I did not pre order any I got one of these guys from boosters and just ordered 3 from here. I have a feeling they will dip more in price until Shards rotates out and this guy finds a home. After that I think he will be huge in standard and since it is a small and somewhat unpopular set he is going to remain pretty expensive.
-
February 24, 2010
-- Bob What
This guy is totally awesome! I'm going to put him in all of my decks, even those that don't have black mana! He makes babies in the throats of Serra Angels! He's so cool!
-
February 17, 2010
-- Tyler Parks
im glad i preordered this guy lol. he does great things in my jund deck and hopefully i find even more decks to stick my anti-platinum angel in.
-
February 08, 2010
-- timdog
amazing card! makes the old juzam djinn look like a piece of crap!!!
-
February 03, 2010
-- Anonymous
Magic just continues make more ridiculous cards!!!it's a shame how they just ruin the game like this..
-
September 13, 2010
-- thomas cox
the best combo for this card is Evil Presents but this combo is the best
-
April 03, 2010
-- Jens N
I know that Abyssal Persecutor is good... but then again... I don't know - Abyssal Persecutor just doesn't appeal very much to me.. Still, 4/5 for being obviously good but not appealing to me.
-
March 09, 2010
-- Timothy Holycross
Insane card, although I do dislike how the newer cards are totally overshadowing the old.For those who can't decide how to rid of the card when you want to win...Throw it in a blue/black deck so that when you're done with him just use Donate. Poof win.
-
February 13, 2010
-- Barry
The perfect "Evil Present".
Fulfilled By:
TrollAndToad.Com