Random 4-Pocket Portfolio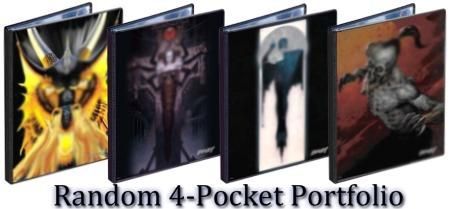 Fulfilled By:
TrollAndToad.Com
Description
Having trouble picking the right one?

Let us decide for you!

Fast, simple, efficient.

Oh, did I mention - you won't find them cheaper anywhere else?
Dimensions
8.25" H x 7" W x 1" D
Ship Weight
0.5 pounds
-
August 06, 2013
-- maxie fuqua
i ordered 16 of these a wile back(they were .50 each then), and all of them were plain black with 4 pages each. good sturdy construction. you can put inserts on the front and back covers. great deal all around.
-
September 22, 2010
-- M
I've ordered about ten of these and they were all the same. They were medium quality 4pocket "Max Pro" 14 page sports card album. I LOVE THEM! I put all my jank rares in these binders and they allow me to keep organized for about a buck and change a piece.
-
May 10, 2011
-- Tyler Wantoch
I ordered one and was expecting something that wouldn't work well with Yu-Gi-Oh! collections... I was rather surprised. Yes, I did get a baseball portfolio, but luckily, the cover was removable, leaving a sleek black cover. I will most definitely be getting more in the future and I do suggest this for others needing something to keep there smaller collections in. lol You can only do so much with 4 card pages.
-
June 03, 2014
-- brunce guerrero
it is good,really good,i thought it has an picture of something but it comes on black,i like it more because now i can put whatever i want in the front
-
February 23, 2012
-- Kristen Andrada
So I bought two of these because I wasn't sure if I was going to get enough pages for one portfolio and I wasn't sure if I would like the one I ordered.

When I received them I got two of the same kind that LeRoy got.
They're cute but I'm not sure exactly what I'm going to put in them yet since I have a lot of cards.
They would be good for rare/foiled cards to show off. :p
-
January 27, 2012
-- Anonymous
The product was a very plain black pocket portfolio. Very functional, also has a clear plastic insert wrapping around the portfolio so you can slide in your own pictures or something.

Overall, very functional.
-
January 19, 2012
-- Mike LeRoy
Received this today. Plain black face (can insert something) with 4 pages. Not bad for a buck and change.
-
November 11, 2010
-- andy bungert
bought one. hoped for a dragon or something cool (and shiny) like that. not so much. i got a max protection sports album (basketball). im dissapointed becasue i''m playing MAGIC THE GATHERING HERE! like most other people. not collecting B-Ball cards!. It however seems to be a quality binder that my MTG cards will fit in. 3 Stars
Fulfilled By:
TrollAndToad.Com