100 Assorted Holo Rare Pokemon Cards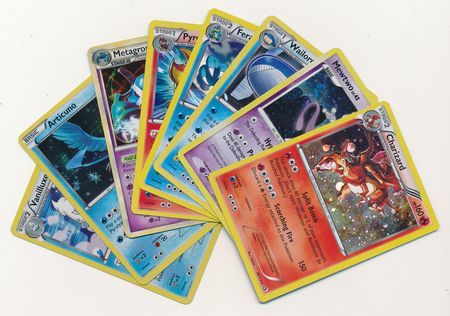 Fulfilled By:
TrollAndToad.Com
| | |
| --- | --- |
| Description | 100 Assorted Holo Rare Pokemon Cards is a card from the Pokemon Lots & Bundles Pokemon set. This is a Pokemon Lot. The Pokemon (Pocket Monsters) franchise begain back in 1996 as a video game by Satoshi Tajiri and Game Freak. It has since gone on to become a world class TCG, toy line, Manga in CoroCoro magazine, movies and a hit anime series. We all know "Gotta catch em all!". See image for more details on this product. Additional Details: NONE |
| Dimensions | 3.5" H x 2.5" W x 1.2" D |
| Ship Weight | 0.4 pounds |
-
January 22, 2019
-- Greg
Verified Buyer
Worth it
I received the cards about 2 weeks after ordering, and it was shipped using Economy to Canada, so that is not too bad. They came packaged well inside a small box, with a bubble wrapped around it to prevent it from moving too much inside the box.The condition of the cards is very good for the most part. There was a single non holo in here, maybe put by mistake but it was an Ultra Beast, so I'll let it go. In terms of duplicates, I'd say there was about 7 cards that had duplicates, and some where in the range of 3-6 copies.In total I probably received around 70 unique cards, which is still a pretty good deal for all holo rares. The sets were all newer sets, with none from the early 2000s and before.Will most likely buy again.
-
March 15, 2021
-- Francisco
Verified Buyer
Great cards
Great cards. Got my money worth. Only 1 duplicate. And 80% of the cards I didn't have before. Most are from the newest sets
-
November 29, 2017
-- Hunter
Verified Buyer
These are great!
Great value, great cards, and maybe 8-10 duplicates out of the whole lot. 95% of the cards I did not own and about 40% of them are older than XY.
-
December 17, 2018
-- Dan
Verified Buyer
Enjoyed but lots of duplicates
I'll preface with I did enjoy what I received and all the cards were in very good condition.In total I received 53 unique cards, which seemed very low to me out of 100 but for the price 53 unique holos still is a very solid deal.I will most likely buy another set because I did enjoy thoroughly, but receiving at least 4 multiples of 7 different cards does water down the fun. Including 10 of the same Gyarados and 8 Kommo-o.
Fulfilled By:
TrollAndToad.Com