Rygel XVI: Dominar of Hyneria Farscape Action Figure (Toy Vault)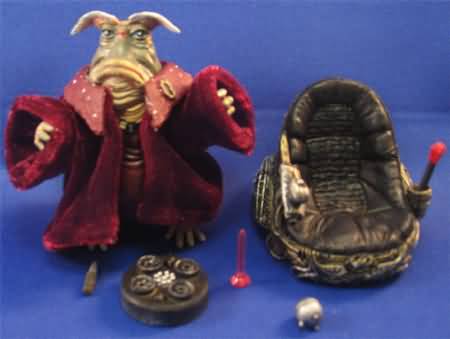 Condition:
Mint Figure On Sealed Near Mint Card
Fulfilled By:
TrollAndToad.Com
Description
Figure Produced- 11/30/01 rare to find in the package anymore this was a limited production of 10,000. Raven Hood, the sculptor of this figure, took the idea to have articulation in the legs from the episode "Exodus From Genesis", the first time in season 1 where Rygel actually walks.

Rygel: Dominar of Hyneria
Comes with:
** 5 points of articulation, Head, arms and legs
** Removable Royal Costume: done in a velvet type material with a plastic collar.
** Thronesled: extremely well detailed with movable "joystick" for steering, detailed styling on the plastic giving a superb brass/bronze look to the piece, leather looking seat with woven backing which will actually allow Rygel to sit in it.
** Bomb Case: Perfect for any "Self Defence" issues that may or may not arise.
** Bomb: no explanation needed.
** Dagger: fits comfortably in Rygels hand should he need it.
** Crystal

All items are included even with the open Rygels and are resealed together to ensure they get shipped out as 1 piece and you don't miss any accessories. Obviously the ones on blister cards include all components as well. The opened ones we are able to find are great to use for a curio cabinet or to display and for those that are just going to open them anyway and save yourself a ton of cash.
Dimensions
2" H x 5" W x 1" D
Ship Weight
0.21 pounds
-
January 31, 2016
-- Güven TURAN
attention please
I am from Turkey, from Istanbul , I get this toy I want size.eg been reached my side? Are there in your hand ? I would appreciate if you could answer my e -mail address . e-mail adress : gturan210889@gmail.co , thanks
-
February 09, 2013
-- Milena Azevedo
By the yotz! This Rygel action figure is so cute! Although the action figure is out of the box, Troll and Toad sent all the itens that come with it. Cool!
Rigel is THE best figure - BOTH of them. Make a plush version next! Go Rigel!
Condition:
Mint Figure On Sealed Near Mint Card
Fulfilled By:
TrollAndToad.Com