Elemental Hero Tempest - EEN-EN034 - Ultra Rare 1st Edition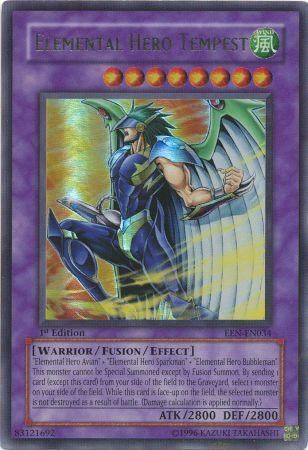 Condition:
Played 1st Edition English Yugioh Card
EVO Merchant:
Paradise Games
Fulfilled By:
TrollAndToad.Com
Rarity
Ultra Rare
Card Type
Monster
Card Text
"Elemental Hero Avian" + "Elemental Hero Sparkman" + "Elemental Hero Bubbleman"
This monster cannot be Special Summoned except by Fusion Summon. By sending 1 card (except this card) from your side of the field to the Graveyard, select 1 monster on your side of the field. While this card is face-up on the field, the selected monster is not destroyed as a result of battle. (Damage calculation is applied normally.)
Creature Type
Warrior/Fusion/Effect
Level
8
Attack
2800
Defense
2800
Attribute
Wind
Description
Elemental Hero Tempest - EEN-EN034 - Ultra Rare 1st Edition is a Yugioh Ultimatecard from the Elemental Energy [EEN] 1st Edition Singles Yugioh set. This is an Ultra Rare. Yugioh began back in the mid 90's as a weekly short in Shonen Jump by 1999 the TCG game had launched in Japan. Yugioh has gone on to become one of the top card games in the world and has now surpassed 20 years of competitive play worldwide. Additional Details: B002MHN0DI
Dimensions
3.375" H x 2.313" W x 0.074" D
Ship Weight
0.004 pounds
-
September 12, 2007
-- Anonymous
Tempest is my favorite E-hero, I try to get him everytime I play!
Condition:
Played 1st Edition English Yugioh Card
EVO Merchant:
Paradise Games
Fulfilled By:
TrollAndToad.Com