Dragon Ice - GLAS-EN084 - Secret Rare 1st Edition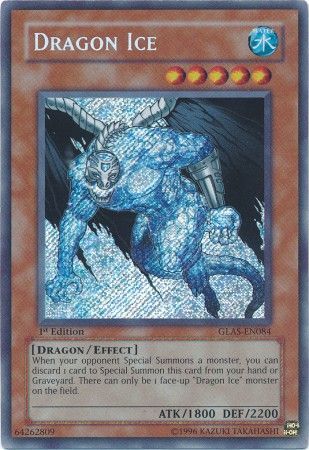 Condition:
Near Mint 1st Edition English Yugioh Card
Fulfilled By:
TrollAndToad.Com
| | |
| --- | --- |
| Rarity | Secret Rare |
| Card Type | Monster |
| Card Text | When you opponent Special Summons a monster, you can discard 1 card to Special Summon this card from your hand or Graveyard. There can only be 1 face-up "Dragon Ice" monster on the field. |
| Creature Type | Dragon/Effect |
| Level | 5 |
| Attack | 1800 |
| Defense | 2200 |
| Attribute | Water |
| Description | Dragon Ice - GLAS-EN084 - Secret Rare 1st Edition is a Yugioh Single Card from the Gladiator's Assault [GLAS] 1st Edition Singles Yugioh set. This is a Secret Rare. Yugioh began back in the mid 90's as a weekly short in Shonen Jump by 1999 the TCG game had launched in Japan. Yugioh has gone on to become one of the top card games in the world and has now surpassed 20 years of competitive play worldwide. Additional Details: B0028WHMO0 |
| Dimensions | 3.38" H x 2.31" W x 0.012" D |
| Ship Weight | 0.004 pounds |
-
February 12, 2011
-- Vincent Parsons
It's workable in Instant Synchro, WATER decks, and Fabled. It can ditch itself for its effect the first time, and it is appealing as an early-game wall. Also gives the player access to Gungnir.
-
January 07, 2011
-- Anonymous
Great card in combo with Genex Undine. I think this card has alot of potential in the future.
-
December 17, 2010
-- hope
After putting together an Ice Barrier deck this last month or so I've figured out that this card is useful mostly for Synchro Summons. Geomancer + Ice Dragon = Stardust Dragon which is a great way to kick off your turn..
-
October 28, 2010
-- Aaron Redden
Outdated-yes. Horrible-no. You see a worthless special summon with weak ATK and DEF and I see a world of possiblities, haha.
-
June 06, 2010
-- Mevin Yavin
This card is not HORRIBLE, but it may be outdated. Remember, you can discard this card for it's own effect, at least the first time. The ATK/DEF could be a bit higher...
-
November 25, 2010
-- andrew hope
Maybe it's just me but I could see this card working with a dark world deck. that gives you the ability to special summon two monsters from your hand. you can get this dude, and a guld out on your opponents turn. that's pretty impressive. in an ice barrier deck however: meh. haha. the only good thing is the tribute for this monster is whatever card is discard. plus if you have umi and umiruka up it gets boosted a little. it's okay. lol.
-
March 28, 2010
-- TRISTAN
Condition:
Near Mint 1st Edition English Yugioh Card
Fulfilled By:
TrollAndToad.Com