Solemn Judgment - SDLS-EN038 - Common 1st Edition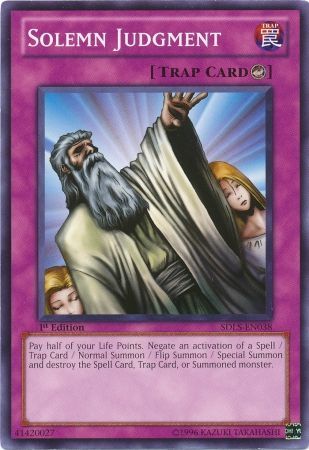 Condition:
Near Mint English Yugioh Card
Fulfilled By:
TrollAndToad.Com
| | |
| --- | --- |
| Rarity | Common |
| Description | Solemn Judgment - SDLS-EN038 - Common 1st Edition is a Yugioh Promo Card (no edition) card from the Structure Deck: Lost Sanctuary 1st Edition Singles Yugioh set. This is a Common. Yugioh began back in the mid 90's as a weekly short in Shonen Jump by 1999 the TCG game had launched in Japan. Yugioh has gone on to become one of the top card games in the world and has now surpassed 20 years of competitive play worldwide. Additional Details: B00563AZEW |
| Dimensions | 3.38" H x 2.31" W x 0.012" D |
| Ship Weight | 0.004 pounds |
-
July 11, 2011
-- Steven
This is such a great card and I'm so glad it's a common so now i can finally afford some. Such a game changer since it halves your life points instead of needing a specific amount like Solemn Warning. Cant wait to add this to my deck.
-
June 16, 2011
-- Anonymous
The day this card became a common... All hell broke lose.
-
June 15, 2011
-- Charles
-
July 10, 2011
-- Anonymous
this is a good card, and should always be ran in 2 or 3's. the downside is you have to pay half your life points, and if you have 4000, then you're automatically down to 2000.
Condition:
Near Mint English Yugioh Card
Fulfilled By:
TrollAndToad.Com