Infernity Launcher - TSHD-EN048 - Super Rare 1st Edition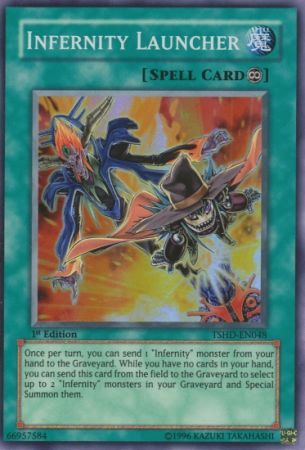 Condition:
Near Mint 1st Edition English Yugioh Card
Fulfilled By:
TrollAndToad.Com
| | |
| --- | --- |
| Rarity | Super Rare |
| Card Type | Spell |
| Card Text | Once per turn, you can send 1 "Infernity" monster from your hand to the Graveyard. While you have no cards in your hand you can send this card from the field to the Graveyard to select up to 2 "Infernity" monsters in your Graveyard and special summon them. |
| Description | Infernity Launcher - TSHD-EN048 - Super Rare 1st Edition is a Yugioh Single Card from the The Shining Darkness [TSHD] 1st Edition Singles Yugioh set. This is a Super Rare. Yugioh began back in the mid 90's as a weekly short in Shonen Jump by 1999 the TCG game had launched in Japan. Yugioh has gone on to become one of the top card games in the world and has now surpassed 20 years of competitive play worldwide. Additional Details: B003LA859O |
| Dimensions | 3.38" H x 2.31" W x 0.012" D |
| Ship Weight | 0.004 pounds |
Flawless card. As an Infernity player, I have to admit, Launcher needs to be limited. Anything more than that makes the Infernity OTK an absolute and gamebreaking OTK. That aside, this card is amazing, whether you search for it with arch, pull it late game, or even start out the duel with it, Launcher always has a different way to be used effectively.
-
July 02, 2010
-- Kim Prentice
I was in a competition last week and a guy won on his second turn in both games because of this launcher. If you run an Infernity deck get three of these and your pretty deadly.P.S. I run a Blackwing deck. P.P.S. I almost won the second game with Armor Master and Kalut.
-
June 09, 2010
-- Anonymous
Im not sure what Konami was thinking when they made this card. Its good. Way, Way too good. Its a plus 1, every single time. And 100% of the time, those plus 1's become an OTK field the likes of which is incredibly hard to stop. It should honestly be at the very least limited. Though its honestly Ban worthy in my opinion, terrible as it would be for an Infernity user like myself.
this card is sooooooooooooooooo good if u draw this card, u can play it kill it and get 2 infernities! get a tuner and synchro BOOM! and if u have a tuner and this, send the tuner to the grave and reborn it for synchro summon! i cnt believe i pulled this card in 3 shining darkness packs
This and Infernity Archfiend are the backbone of the Infernity loop. OTKs should never be this easy to execute. This card is great but it's definitely too good. May as well be called Infernity Double Monster Reborn. Should be banned or limited at the least next format.
-
May 23, 2010
-- BeginTheUprising
The main card in infernity decks. Launcher, archfiend, beetle, necromancer and mirage make the deck a tier 2 or tier 1 deck, but this is the main one of them all. if your running infernities, run 3 of these launchers. period.
-
August 20, 2010
-- Jose
So long Gun, it's was fun at three :(
this is a must have for infernity deck a little high piece but try to get it
Condition:
Near Mint 1st Edition English Yugioh Card
Fulfilled By:
TrollAndToad.Com